RainXchange
The earth is known as the Blue Planet for a reason, it's no surprise that water is a dominant part of our everyday lives. The world's current challenge is to improve the planet's water quality and then maintain clean and healthy water that supports all life forms in our diverse environment.
Capturing and reusing rainwater makes dollars and "sense."
Better for your landscape than municipally treated water.
The Aquascape RainXchange™ System is a revolutionary design that combines a recirculating decorative water feature with a sub-surface rainwater harvest storage system.
Clean, Filtered Water Storage
The RainXchange™ System reveals only a beautiful water feature that integrates easily into existing landscape.
Locating and storing the water underground maintains the integrity and beauty of your home and landscape.
Click here to download our Rainwater Harvesting brochure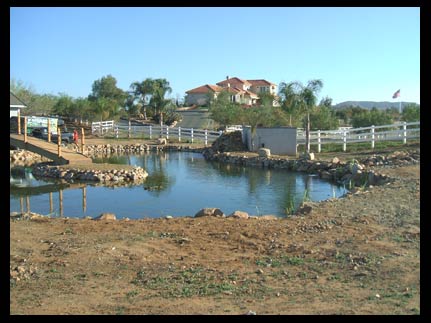 Retention
PONDMAN is the place to go for your large pond or retention pond work. Water conservation is a priority with us, and when water storage is a requirement we work to make your pond not only functional but beautiful. We specialize in construction and design of storm water retention and irrigation ponds. Many of these ponds can double as a fish pond with just a little work. We can help make them storage ponds and beautiful destination ponds at the same time. With our experience (PONDMAN) can solve water storage problems as well as cosmetic requirements. We can design a system with a choice of materials including solar, wind, and static, and electrical power. Sometimes a low steady solar pump is enough to keep a pond toped off, other times a small windmill can be used to keep the pond active , and in some instances a electric pump is used to circulate water thru a filter, but regardless of the specific requirements (PONDMAN) can get the job
done.