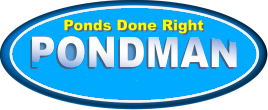 WOW, It's Time to start scheduling our Pond Clean Outs and Services again.
As you know your water feature needs occasional maintenance and cleaning.
In the past, Our schedule filled up quickly; We see no reason to think it won't again this year.
Pond or waterfall clean outs  include the following.
The water feature is drained. (We save some of the original water for fish and plant storage, during the service.)
We powerwash the rocks and gravel from the adequate level up.( A layer of biofilm is left on the rocks to encourage future water quality.))
We trim and thin out existing plants as needed.( The existing plants will grow back quickly )
We clean out and remove all excess debris and waste.(Leaves, sticks and all other un-wanted build up)
We perform a visual inspection of all fish and turtles for any signs of stress or disease.
We will check any lighting in the feature and recommend a repair if needed.
A visual water quality inspection is also performed.
We will check on the pump and any other mechanicals in the water feature.
We will check and clean all filters.
Rock adjusting is also a part of this service.
Water refill and water treatment is added upon clean out completion.
Pond life wills carefully, be re introduced to the water feature.
Clean out start at $700.00
The price of your service is determined with $700 as the average price.  The cost of the service is based on 4 hours. We charge $150.00 per hour for each additional hour required to complete your cleaning.
As in the past we are scheduling on a first come first served basis.
Also as in the past     Pre payment for your clean out allows a 10% discount.
Please call to lock your place on the schedule.
Thanks     Bill The Pondman   (858) 449-9135